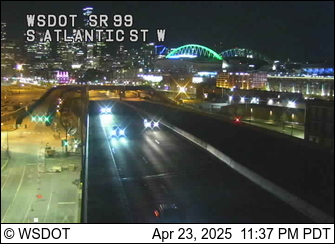 (WS Bridge and Highway 99 views; more cams on the WSB Traffic page)
Good morning! The holiday weekend is in sight – but first, the Friday morning commute. Also, transit reminders for the holiday on Monday – both Metro and the West Seattle Water Taxi (as well as its shuttle buses) will be on Sunday schedules that day. The citywide alerts for the weekend, meantime, are here.
7:22 AM: Could be some NB I-5 trouble – a car fire is reported north of the bridge offramp.