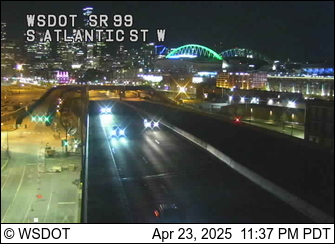 (WS Bridge and Highway 99 views; more cams on the WSB Traffic page)
In honor of Bike to Work Day, we're adding the camera closest to the low bridge's West Seattle end:
From 6-9 am, three "commute stations" are welcoming riders in West Seattle and White Center – click the markers to find out more:

View Commute Stations — Bike to Work Day presented by F5 in a larger map
Fun and treats promised at all three stops. Other notes this morning:
WEEKEND ALERTS: Here's the citywide list of weekend events that will or might affect traffic – among them, the West Seattle 5K (last day to register online!) and Seattle Summer Streets road-closing fun on Alki on Sunday – the full race route to and from Anchor Park will close Alki SW until 11 am, and then a smaller section, between 56th and 63rd SW, will be closed 11 am-5 pm.
TAKE THE POLL YET? As first mentioned here Thursday morning, the West Seattle Transportation Coalition wants to know which taxing option(s) you would use – from the ones the city has the authority to enact – if it were up to you to decide how to get money to avoid Metro cuts. Go take the poll here (before Tuesday morning).
9:13 AM NOTE: We stopped by the local Bike To Work Day stations – separate report coming up.
9:37 AM: If you use Airport Way – take note:
N/B lanes of Airport Way closed between Holgate and Lander as SPD/ @SeattleFire respond to a container fire.

— Seattle Police Dept. (@SeattlePD) May 16, 2014