January 20, 2014 at 5:58 am | In
Holidays
,
West Seattle news
,
WS miscellaneous
|
Comments Off
Good morning! First, for those who aren't off this holiday, the transportation info: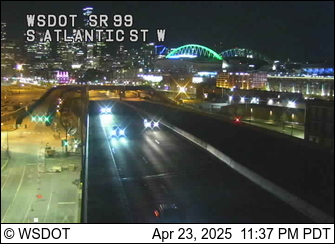 (Latest bridge and Viaduct views; more cams on the WSB Traffic page)
METRO BUSES: "Reduced weekday/no UW" schedule
WATER TAXIS: Not running
WASHINGTON STATE FERRIES: Regular schedule
SOUND TRANSIT: Regular schedule
PARKING ON CITY STREETS: No charge today in other neighborhoods' pay station/meter spots
Other King Day notes: No school; government facilities closed, including city-run community centers/pools; libraries closed; Senior Center closed
From the calendar:
MLK DAY OF SERVICE – VOLUNTEER IN THE WEST DUWAMISH GREENBELT: While most MLK Day of Service projects required pre-registration, if you're looking for something to help with today, the Nature Consortium has a volunteer work party in the West Duwamish Greenbelt, continuing to help restore the forest. Everything you need to help is provided; just show up. They're working today in the Soundway section, gathering at Riverview Playfield, 10 am-2 pm. (7098 12th SW)
VETERANS' FORUM: As previewed here Sunday night, the West Seattle Veteran Center will host a town-hall forum tonight, 7-9 pm, for veterans, family members, and caregivers, focused on VA claims issues. (3618 SW Alaska)
No Comments yet
Sorry, comment time is over.
All contents copyright 2005-2015, A Drink of Water and a Story Interactive. Here's how to contact us.
Header image by Nick Adams. ABSOLUTELY NO WSB PHOTO REUSE WITHOUT SITE OWNERS' PERMISSION.
Entries and comments feeds. ^Top^