September 19, 2013 at 9:07 pm | In
West Seattle history
,
West Seattle news
,
West Seattle people
|
3 Comments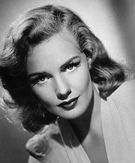 Thanks to local historian Peder Nelson for pointing this out: Today is the 100th anniversary of movie star Frances Farmer's birth. Her family lived on Capitol Hill when she was born on September 19, 1913, but moved to West Seattle in the early '20s, and she went on to attend West Seattle High School, gaining her first round of fame for an award-winning essay titled "God Dies." She died in 1970, but her legend lives on, as much because of her tragic later years as her silver-screen career – even her HistoryLink.org biography, published 10 years ago, spends far more time on the former than the latter. That's a big reason why five years ago, Nelson organized an Admiral Theater mini-festival that was about "celebrating Frances Farmer for her life and what she did, away from all the tragedy," as he told us in our interview for this 2008 WSB story previewing the event. She is most definitely not forgotten – Shadowland in The Junction, for example, carries the same name as a biography of Farmer. In 2011, Nelson led walking tours about "The Life and Times of Frances Farmer," passing spots including the home where her family lived in the 2600 block of 47th SW. She was just 56 when she died of cancer in Indiana.
3 Comments
I knew that she was famous and from West Seattle but never really bothered to Google her until today! Pretty fascinating stuff, and pretty profound essay topics for a young gal in the 1930′s.

Comment by Cait — 11:58 pm September 19, 2013 #

If you have never seen the movie starring Jessica Lange, you have missed on one of the best performances of an actress ever. I believe she won the Oscar for the movie. Simply called Frances.

Sad sad story.

Comment by T Rex — 12:59 pm September 20, 2013 #

Frances was mostly fiction. A terrible disservice to the memory of a troubled, talented woman.

Comment by Mike — 1:58 pm September 20, 2013 #
Sorry, comment time is over.
All contents copyright 2005-2015, A Drink of Water and a Story Interactive. Here's how to contact us.
Header image by Nick Adams. ABSOLUTELY NO WSB PHOTO REUSE WITHOUT SITE OWNERS' PERMISSION.
Entries and comments feeds. ^Top^