August 20, 2013 at 6:03 am | In
West Seattle news
,
West Seattle traffic alerts
|
4 Comments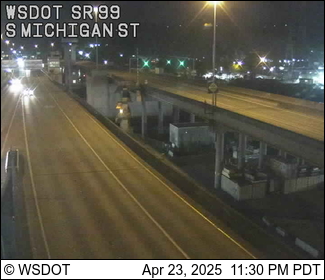 (Live view of the 1st Ave. S. Bridge, looking south at northbound lanes)
That's a state-run camera again this morning, as we wait for the city traffic cameras to stabilize. Meanwhile, the pre-scheduled traffic alerts:
*Dumar/Orchard between Delridge and (almost) 16th still closed
Looking ahead:
*Northbound I-5 exit to West Seattle Bridge closed Friday night-Monday morning
*Alki Beach 5K route closed Sunday morning
TUESDAY AFTERNOON P.S. The city cams are back – see them on the WSB Traffic page.
4 Comments
Sorry, comment time is over.
All contents copyright 2013, A Drink of Water and a Story Interactive. Here's how to contact us.
Header image by Nick Adams. ABSOLUTELY NO WSB PHOTO REUSE WITHOUT SITE OWNERS' PERMISSION.
Entries and comments feeds. ^Top^