(Live view from the east-facing WS Bridge camera; see other cameras on the WSB Traffic page)
First, here are the West Seattle Bridge (above) and 99 (below) cams: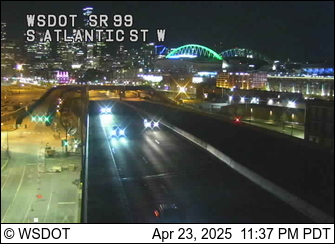 Now the reminders – the Delridge/Trenton weekend intersection closure is preceded by a block of Trenton closing for preparation work, starting right now – details here (here's the weekend Route 120 transit alert for this work). Today is also the scheduled start of the safety-curb installation on Fauntleroy Way just west of California in Morgan Junction.
Then this weekend, the Viaduct/99 is closed all day Saturday plus Sunday morning – details here, and the ramp to southbound I-5 from the eastbound West Seattle Bridge will be closed this weekend too, starting late Friday night, as part of WSDOT's Spokane St. Interchange Special Bridge Repair Project.