February 21, 2013 at 7:00 am | In
West Seattle news
,
West Seattle traffic alerts
|
Comments Off
("Live" cam looking at the eastbound West Seattle Bridge; more cams here)
Good morning! As we head toward the start of the commute, KING 5 is reporting a backup on 99 south of the West Seattle Bridge – (update) it's because of a crash on East Marginal Way. Here's the 99 camera from the 1st Avenue South Bridge: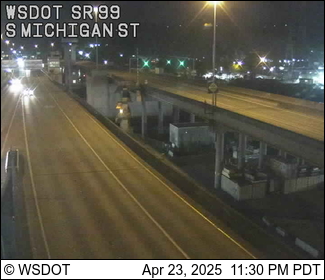 Looking ahead – if you missed the announcement late yesterday, the Delridge/Trenton intersection closure is now CANCELED for this weekend, but the Highway 99 closure is still on (beginning early Saturday).
8:02 AM UPDATE: The East Marginal Way problem is still backing up traffic south of West Seattle, says WSDOT:
If going NB into Seattle, take I-5 to Airport Wy rather than NB 509 and NB 99. Only 1 lane open on E Marg Way at Orcas.

— WSDOT Traffic (@wsdot_traffic) February 21, 2013
No Comments yet
Sorry, comment time is over.
All contents copyright 2005-2015, A Drink of Water and a Story Interactive. Here's how to contact us.
Header image by Nick Adams. ABSOLUTELY NO WSB PHOTO REUSE WITHOUT SITE OWNERS' PERMISSION.
Entries and comments feeds. ^Top^