(Live view from the east-facing WS Bridge camera; see other cameras on the WSB Traffic page)
The Friday morning commute is off and rolling. But there's a big closure all weekend – details below our 99 view …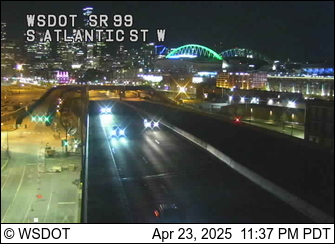 The I-5 Spokane St. Interchange Bridge Repair will close the eastbound Spokane Street Viaduct after the 4th Avenue S. ramp starting at 10 pm tonight, scheduled to continue until early TUESDAY morning, so you won't be able to get to I-5 or Beacon Hill from the eastbound West Seattle Bridge; detours are listed here.
Two more notes: The Delridge/Trenton intersection closure has been postponed; Seattle Public Schools are out today for their newly shortened mid-winter break; they are also off Monday.
10:09 AM UPDATE: Thanks to Ivy for the tip – a crash blocking traffic at 35th and 102nd in Arbor Heights.