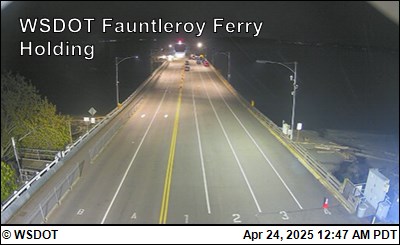 (Refresh for newest image from WSDOT's camera @ Fauntleroy ferry dock, a fixture on the WSB Traffic page)
ORIGINAL REPORT, 9:16 AM: On a busy pre-holiday weekend, this might have even more impact than it would otherwise, so please note that Washington State Ferries just announced that the Fauntleroy-Vashon-Southworth route is down to two boats because the Sealth needs repairs. No estimate yet for how long that'll take. P.S. If you're at or near the terminal, a reminder that, as noted in our daily preview, the organization CoolMom is distributing information there later today about reducing emissions by keeping vehicle engines off while waiting.
5:49 PM UPDATE: The run is back to 3 boats as of late this afternoon.