November 17, 2012 at 9:16 am | In
West Seattle news
,
West Seattle traffic alerts
|
3 Comments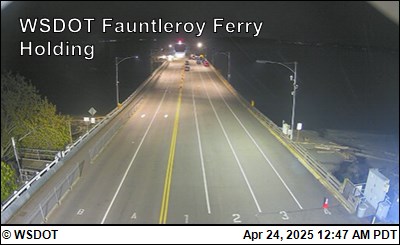 (Refresh for newest image from WSDOT's camera @ Fauntleroy ferry dock, a fixture on the WSB Traffic page)
ORIGINAL REPORT, 9:16 AM: On a busy pre-holiday weekend, this might have even more impact than it would otherwise, so please note that Washington State Ferries just announced that the Fauntleroy-Vashon-Southworth route is down to two boats because the Sealth needs repairs. No estimate yet for how long that'll take. P.S. If you're at or near the terminal, a reminder that, as noted in our daily preview, the organization CoolMom is distributing information there later today about reducing emissions by keeping vehicle engines off while waiting.
5:49 PM UPDATE: The run is back to 3 boats as of late this afternoon.
3 Comments
WSDOT website says Sealth is fixed already?

Comment by w — 5:23 pm November 17, 2012 #

Yup, I just saw the alert on that and came to this story to update it.

The boats are breaking down, wsf is cutting dock workers hours, boat crew hours but they are hiring more managers. Why don't you report that, Susannah Frame??????

Comment by pigeonmom — 6:17 pm November 17, 2012 #
Sorry, comment time is over.
All contents copyright 2005-2015, A Drink of Water and a Story Interactive. Here's how to contact us.
Header image by Nick Adams. ABSOLUTELY NO WSB PHOTO REUSE WITHOUT SITE OWNERS' PERMISSION.
Entries and comments feeds. ^Top^