By Tracy Record
West Seattle Blog editor
Admiral won't lose as much Metro bus service as the first draft of the transit service's "restructuring" plan proposed.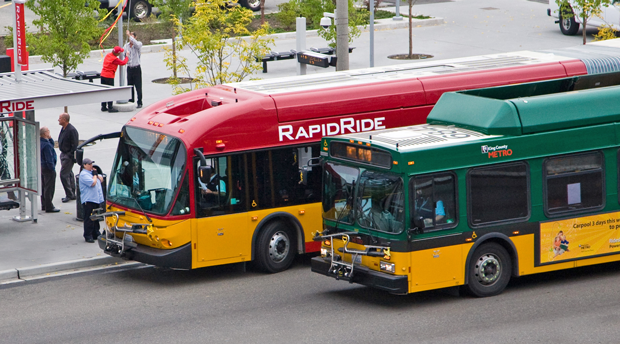 That's what lead planner Jack Lattemann told the Admiral Neighborhood Association tonight, in the first public update on what's happening since the public-comment period for that draft plan closed. The "restructuring" is planned in connection with next fall's debut of RapidRide service in West Seattle (which will replace the 54).
And they got plenty of public comments, he said: 3,000 people took the online questionnaire; another 1,000 people provided non-online written comments. As an Admiral-specific result, he said, "I can assure you that we are going to submit a revised proposal that will include some level of bus service on California 7 days a week all the way as far north as Atlantic Street … it looks like that is going to be feasible," said Lattemann. "We'll have a second round of proposals out in about a month."
That round will include another series of community meetings, he said, likely in the first two weeks of February. He says other "concepts" from the draft circulated online and at public open houses (including two in West Seattle) are being revised in response to public comments, too.
One option for that could be extending Route 128, Lattemann said, and that route already is up for an extension with service at least until midnight – California and Admiral both will be served at least that late, he said. (It also, he said, is up for the addition of two afternoon trips to help with the student load at those times.)
"The other possibility is Route 40, a new route we proposed from Alaska Junction to Georgetown, a new east-west route … to save people quite a lot of time," he said. While it was proposed to end at The Junction, "it's possible we could extend it farther north," he said.
His bottom line: "I wanted to let people know, your comments have had an impact … stay tuned."
He also wanted to be clear, though, that Metro is not talking about the status quo (the 51 and 53 are still proposed for elimination because they're not performing up to expectations), but they're looking at other combinations of service to cover more of North Admiral, and to cover late night. "We need to settle on what's the routing pattern" before they know what stops might be dropped, he said, in response to a question. "In some cases, bus stops could be shifted," he said, perhaps 3 could be changed to two. The guidelines are "every 1200 to 1500 feet," he noted, averaging 4 per mile.
He also indicated they've noted public comments about safety hazards at road crossings near some bus stops, including some he said he had read about here on WSB. Dakota/California, in particular, came up, because he had mentioned The Junction, and then ANA members made sure that 47th/Admiral (scene of the 2006 pedestrian death that inspired their recent demonstration/tribute) was on his radar too.
ANA vice president Karl de Jong reminded Lattemann that saying "there's a bus stop within a mile" means different things depending on where in West Seattle you are, given the topography – a flat mile is not equal to a hilly mile.
So what changed to enable Metro to pull back on some cuts? ANA president Katy Walum asked. Lattemann said he hadn't supported everything in the proposal that was circulated, but the directive was for it to be taken to the public for comment, so that's what they did. "I'm a believer in takng care of existing riders before (new ones)," he noted. "I asked the staff to take another look, and so they are." But where's the money coming from? Walum pressed. "There are lots of choices in running this transit system," replied Lattemann.
However, he then tempered that statement, there's no new funding – the decisions all have to be made with the "same pot" in mind. At that point, we asked about Route 37, which was proposed for the chopping block, leaving Beach Drive without service. Lattemann said they are looking at options for possibly keeping "some level of service" in that area – not what there is now, but something, rather than leaving Beach Drive busless. Again, it's all in the works now, and the next proposal will be out in time for that second round of public meetings he expects to happen in about two months.
After Walum summarized Lattemann's comments as "good news," he said it might be better termed as "hopeful news."
(Note that this was not a formal briefing on the entire West Seattle proposal; Metro was invited to update the Admiral group, and that's what Lattemann focused on.)
Also at tonight's ANA meeting: The group is drafting a list of its 2011 accomplishments, for distribution at events as well as via its website, so that people know it's not just "the group that sponsors the concerts." One of those accomplishments is facilitating the launch of the Admiral District's new business association, which has been continuing to gather steam since the gathering we covered back in September.
In the year ahead, the group wants to get more involved with volunteering for area nonprofits, particularly ones working in the Admiral area; if you know of one that could use occasional help from their group, contact ANA via their website. Speaking of which:
The ANA is on the web here, and on Facebook here. Its meetings are usually on second Tuesdays, 7 pm, in the basement meeting room at Admiral Congregational Church.