October 9, 2011 at 4:45 pm | In
West Seattle news
,
West Seattle restaurants
,
WS beverages
|
15 Comments
Eight notes from food and drink establishments around West Seattle & a bit beyond:
'NEW' BISTRO: Aimee Pellegrini shared that photo along with the news this week of some evolution in her Junction business, "to better reflect what we offer": The Tuscan Tea Room is now the Tuscan Tea Room Bistro. Aimee says she has new dinner, lunch, and brunch menus, and is also planning a special wine dinner co-hosted by bin 41 on October 19th (details here). Tea service continues, too. Only one thing Aimee's not doing any more: Floral design: "I've retired Romanza Floral. While I've enjoyed my 9 year floral career, this was my last season. I'm focusing fully on the TTR and culinary pursuits-my first love." (4521 California SW)
NOT JUST COFFEE AND PASTRIES ANY MORE: Two blocks north, Hotwire Online Coffeehouse (WSB sponsor) is now offering a new breakfast option – an oatmeal bar – and lunch (etc.) – sandwiches (two types for starters, and one is veggie)! Read all about it in the latest Hotwire newsletter. (4410 California SW)
NEW OPTION FOR GLUTEN-FREE PIZZA: It was among the laments in comments on our report about the Junction Garlic Jim's closure – where to get gluten-free pizza? An A-board sign outside Olympia Pizza at 5605 Delridge now declares they're offering gluten-free pizza and pasta (their website mentions gluten-free dough too).
NEW WHITE CENTER COFFEE SHOP: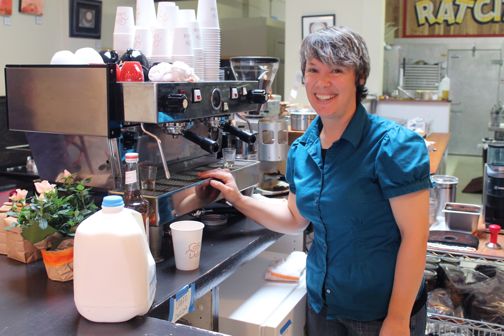 That's Delia, of Caffé Delia. The new coffee shop soft-opened this morning; it shares space with Proletariat Pizza, and serves Spella coffee (from Portland). More info, including hours, online.
ALSO IN THE W-C: Found this one out from the WSB Forums: Ever-popular Zippy's Giant Burgers has added sweet-potato fries. (9614 14th SW)
FRIED CHICKEN DINNER: Speaking of fried … tried the Endolyne Joe's (WSB sponsor) Sunday night fried-chicken supper yet? Starts at 5 pm Sundays. Details/price on their website (right sidebar). (9261 45th SW)
ADDED BRUNCH: If you haven't been to Blackboard Bistro lately – note that Blackboard no longer serves lunch, but has added weekend brunch. (3247 California SW)
HEARD ABOUT MASHIKO'S NEW 'SIBLING'? Mashiko proprietor Hajime Sato has opened Katsu Burger in Georgetown. It serves burgers "katsu" style – with the crunchy coating you typically find on Japanese pork or chicken katsu. Read about it here, including a link to its menu. (4th Avenue S./East Marginal Way)
15 Comments
Sorry, comment time is over.
All contents copyright 2013, A Drink of Water and a Story Interactive. Here's how to contact us.
Header image by Nick Adams. ABSOLUTELY NO WSB PHOTO REUSE WITHOUT SITE OWNERS' PERMISSION.
Entries and comments feeds. ^Top^