April 24, 2010 at 6:44 pm | In
West Seattle news
,
West Seattle video
|
Comments Off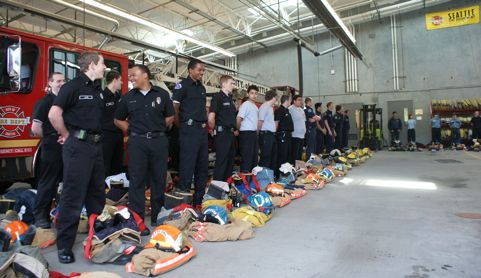 A long day of competition for more than 200 Fire Cadets/Explorers – future firefighters, as the city called them in the announcement – has wrapped up at the Joint Training Facility in southeastern West Seattle. We dropped by toward the start of the day, first as the participants rallied along with the pros they work with – then as the competition began. It's not all about simulating dragging people heroically out of burning buildings – here's the stuff most fire scenes are made of, under-appreciated yet vital – hooking up to the hydrant:
Other skills in which they competed included mass-casualty triage, search and rescue, and a Combat Challenge Relay, described by the city as "four-member teams … carrying a hose bundle up the tower, hoisting a section of hose, search and rescue, and repositioning a charged hose line." Cadets and Explorers are 14 to 21 years old. ADDED 12:25 AM SUNDAY: Our citywide-news partners at the Seattle Times covered the event too.
No Comments yet
Sorry, comment time is over.
All contents copyright 2014, A Drink of Water and a Story Interactive. Here's how to contact us.
Header image by Nick Adams. ABSOLUTELY NO WSB PHOTO REUSE WITHOUT SITE OWNERS' PERMISSION.
Entries and comments feeds. ^Top^