March 30, 2010 at 11:19 am | In
Crime
,
Helicopter
,
West Seattle news
,
White Center
|
9 Comments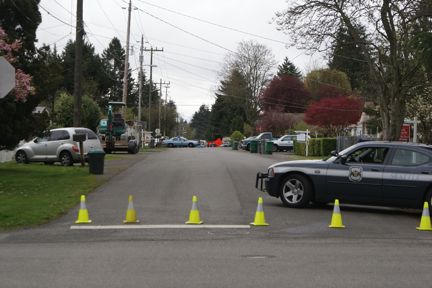 ORIGINAL 11:19 A REPORT: We've received a few calls about the chopper over SE West Seattle/White Center. Officers are after a woman described on the scanner as having a shotgun; it started in the 10700 block of 18th. More to come. NOON UPDATE: We've just talked at the scene with King County Sheriff's Office spokesperson Sgt. John Urquhart. He tells us this began when residents interrupted a burglary in progress. They're OK but three suspects — including the aforementioned armed woman – are being sought. 12:45 PM UPDATE: Our video of Sgt. Urquhart's media briefing is back in house; uploading now, but in the meantime, the newest details – one suspect was caught, two on the loose. He says all three are believed to be teenagers. (added) Here's the video (you can hear the helicopter/s in the background):
ADDED 11:14 PM: Two more suspects have been arrested, after a raid on a South Seattle motel, according to this KING 5 report.
9 Comments
Sorry, comment time is over.
All contents copyright 2013, A Drink of Water and a Story Interactive. Here's how to contact us.
Header image by Nick Adams. ABSOLUTELY NO WSB PHOTO REUSE WITHOUT SITE OWNERS' PERMISSION.
Entries and comments feeds. ^Top^