October 30, 2009 at 11:37 am | In
Fun stuff to do
,
West Seattle Outdoor Movies
,
WS & Sports
|
1 Comment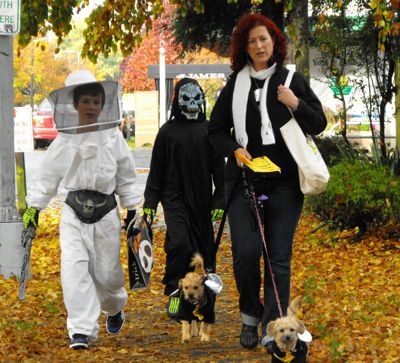 (WSB photo from Admiral business district trick-or-treating in 2008)
A couple more advance notes before we publish the West Seattle Weekend Lineup – The first of three business-district trick-or-treating events in West Seattle is just a few hours away – Admiral Treats and Treasures is 3-6 pm; here's the map – remember to stop by Merrill Gardens-Admiral Heights (WSB sponsor) when you're done, to enter the raffle. Right after that, indoor fun begins all around the peninsula, including the special Halloween edition of West Seattle Junction Movies on the Wall - "Nightmare Before Christmas," 7 pm in the big new West Seattle Christian Church Activity Center (4400 42nd SW) – free! Bring a food-bank donation if you can. Tonight also features more high-school football: West Seattle High School plays Seattle Prep at Memorial Stadium at 5 pm (we'll tweet from the game at @wsblive). Also, Seattle Lutheran High School plays Chief Leschi at West Seattle Stadium at 7 pm; since the match won the channel 13 "Game of the Week" poll, you'll see a clip on TV later tonight. Chief Sealth High School plays at Lakeside tomorrow, 1 pm.
1 Comment
Looks like the feral cat patrol. Nice costumes!

Comment by KBear — 3:43 pm October 30, 2009 #
Sorry, comment time is over.
All contents copyright 2013, A Drink of Water and a Story Interactive. Here's how to contact us.
Header image by Nick Adams. ABSOLUTELY NO WSB PHOTO REUSE WITHOUT SITE OWNERS' PERMISSION.
Entries and comments feeds. ^Top^