January 20, 2009 at 2:31 am | In
2009 Inauguration
,
West Seattle history
,
West Seattle politics
|
Comments Off
Almost one full year ago, it started here with the precinct caucuses:
(2/9/08 photo by Tim, taken at Arbor Heights Elementary)
As we reported that night, the 34th District went 70% Obama, 28% Clinton, on a day of overflow crowds everywhere. Two months later, for the district caucus April 5 at WSHS, it was standing- and floor-sitting-room-only:
Seven months after that, on Election Day, we found Chris Porter - who'd been an Obama delegate at the Democratic National Convention – among the morning sign-wavers on the Fauntleroy overpass: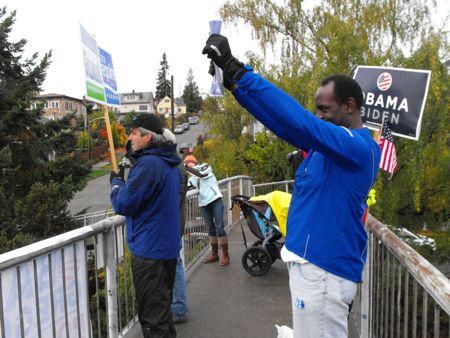 That night, we shot this video at Skylark Cafe and Club (WSB sponsor) during a long, loud ovation after the networks called the Obama victory:
We'll be back at Skylark tonight; it's one of the venues with post-inauguration celebrations listed (along with other events and info re: today) on our special Inauguration page.
No Comments yet
Sorry, comment time is over.
All contents copyright 2005-2015, A Drink of Water and a Story Interactive. Here's how to contact us.
Header image by Nick Adams. ABSOLUTELY NO WSB PHOTO REUSE WITHOUT SITE OWNERS' PERMISSION.
Entries and comments feeds. ^Top^